Easter Kids Recipe
Easter Bunny Bread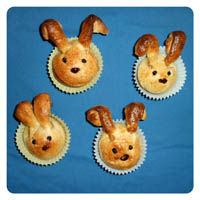 Objectives
Enjoy these delicious Bunny Breads on your Easter breakfast table.
Materials
1 can ready-to-bake french bread
6 cup muffin tin 
pretzel sticks
1 egg
flour, sugar, butter
dried blueberries, cranberries
muffin liners
Directions:
Melt butter in a small bowl in microwave. Grease muffin cups with butter and coat with flour.
Open bread can and cut into eight pieces. Roll six pieces in to a ball and place one ball in each muffin cup.
Cut the remaining pieces into three pieces until you have 6 rolls. For the bunny ears cut each roll in half.
Place a pretzel stick on top of each piece (see pic.) Fold dough over pretzel stick.. Push ears in to the ball in the muffin tin.
Let dough stand for 15 minutes. Beat egg with a fork and add one spoon of sugar. With a baking brush, brush the egg/sugar mixture on the bunnies.
Pre-head oven to 325. Bake for 20-23 minutes or until golden brown. Cool 5 minutes.
With a pointy knife make holes for the eyes and nose. Add dried blueberries for the eyes and a dried cranberry for the nose.
Remove bunny breads from muffin tin and place in muffin liner.
Easter Table Decoration

Fill clay pots with Easter grass and place a Bunny Bread in each pot. Tie a nice ribbon around the ears. This makes a very cute and easy Easter Table decoration kids will love.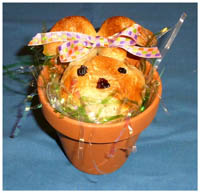 More Easter Ideas: