Summer and 4th of July Kids Activities
4th of July Activities and Summer Fun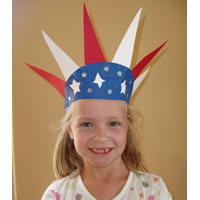 The Fourth of July is one of the most important holidays that we celebrate in the United States. It's a time to celebrate the freedom that is America. Everyone loves the Fourth of July, especially children. It is a time to be footloose and fancy free and to kick up your heels in celebration. You'll find plenty of Fourth of July activities, crafts, games, poems and songs, and literacy activities in our KidsSoup Resource Library to help your children celebrate America's birthday. HAPPY BIRTHDAY, AMERICA!
Activities



Healthy Facts and Tips

Summer Skin Care Protection for Kids
The sun's rays are risky for all of us, above all for infants, toddlers, children, and teens. Early exposure to too much sun and childhood sunburns can lead to skin cancer over time. By protecting your child's skin, especially in the summer, you can help prevent sunburn -- and greatly reduce skin cancer risk later on.


Patriotic Poems and Songs

What you do:
Provide children with small flags or let them make their own. Then let them wave their flags and march as they recite the following poem:
Way Up in the Sky
(Tune: Row, Row, Row Your Boat)

Wave, wave, wave the flag,
Hold it very high.
Watch the colors gently wave,
Way up in the sky.
March, march, march around,
Hold the flag up high.
Wave, wave, wave the flag,
Way up in the sky.


Literacy Activity: A Is for America

What you do:
A is for America by Devin Scillian is a tribute to all we know and love about the United States of America. Its charming poems, expository text, beautifully detailed illustrations worked together to weave a tapestry of American symbols, history, and culture.

Introduce the concept to children that the Fourth of July, or Independence Day, is the day that we celebrate the birthday of our country. When is your birthday? How do you usually celebrate your birthday? Let children respond. What does it mean to have a birthday? Let children respond. That's right! A birthday is the celebration of the day on which you were born. And guess what? The United States of America has a birthday just like you do. It's called the Fourth of July, or Independence Day.


Symbols of America


What you need:
Pictures of American symbols
Heavy printing paper
Crayons, markers, colored pencils
Scissors
What you do:
There are many symbols that represent America. Show pictures of some of the American symbols, such as the American flag, the Statue of Liberty, and the Liberty Bell. Talk about the symbols with your children and then let them make a booklet about the symbols.
American Flag
The first American flag had thirteen alternating red and white stripes and thirteen white stars on a blue field. Stars have been added to the flag as new states have joined the Union. The flag currently has fifty stars. Red signifies courage; white signifies purity and innocence; and blue signifies perseverance and justice.


Activities: Red, White, and Blue Fun

What you do:
The Fourth of July is a great time to integrate fun red, white, and blue reading/language arts and mathematics activities into your daily curriculum. For example, let children practice creating patterns while doing the following activity:
Star Patterns
Cut sponges into star shapes. Put red, white, and blue paint into separate shallow pie tins. Provide children with yellow or black construction paper and let them dip the sponges into the paint to make patterns on their paper. Encourage children to explain their patterns.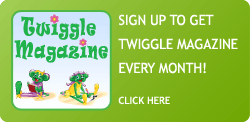 Summer Activities

Have a 4th of July Parade

Have children decorate tricycles, bicycles, wagons, and other pulling toys for a parade. Here are some fun decorating ideas:
weave red, white, blue crepe paper through wheel spokes
tie red, white, and blue balloons, streamers, or ribbons to handlebars
make a wagon float
tie tin cans and pie plates to the back of wagons and tricycles to make lots of noise



KidsSoup Resource Library
This Month:

4th of July Activities and Crafts
Pizza Fun, Activities, and Games
Sign up for access to
our entire resource library:



Other Resources