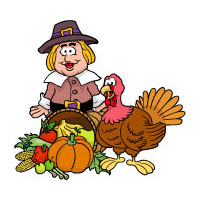 Thanksgiving is just around the corner, and it's time to make plans for what you and your family will do on this day of giving thanks. Many people will be traveling by land, air, or maybe even water to visit loved ones. This is a perfect opportunity to talk with your child about different ways to travel: car, plane, train, or boat. In this issue of Twiggle Magazine , we've even provided you with some travel ideas to help you get your discussion started. You'll also find a cornucopia of Thanksgiving crafts, literacy activitues, snack ideas, and fall activities. And we at KidsSoup would like to thank you for your patronage and support.
Sign up to get the Twiggle Magazine Newsletter
Activities



Worksheets/Coloring


Healthy Facts and Tips
Gear Up for Thanksgiving
Evaluate your Thanksgiving family traditions. Are there any you wish to continue, enhance, eliminate, or begin? A great healthy way would be to start your Thanksgiving celebration with a family pre-dinner stroll through the neighborhood while the turkey roasts. Let children help prepare one dish or create the table decorations.
Say "Thanks" to a soldier this Veterans Day, Nov. 11. Send a holiday card and a message of thanks to service members. The 3rd annual drive starts on Veterans Day and runs through Dec. 7. Information will be available in early November at redcross.org.


Crafts


Thanksgiving Travels

What you do:
Ask children if they travel to visit family on Thanksgiving Day.
Have a discussion with children about the steps people take when they go on an airplane, train, or car trip. Introduce one type of transportation at a time. Talk about packing, luggage storage, presenting tickets, boarding, and finding a seat or cabin.  After the discussion, show children the sequencing cards for the transportation discussed and sequence them together as a group.


Literacy Activity: Thanks for Thanksgiving

What you do:
Thanks for Thanksgiving. Everyone knows that Thanksgiving is a time to give thanks—the question is, where to begin? From the turkey on the table to warm, cozy cuddles, life is full of small things and bigger pleasures. But what is most important is being able to share them with family!
This charming picture book gives thanks for the many things found in a young child's life. Children participate in many autumn and early winter activities such as playing on windy days, apple picking, and sledding.


Thanksgiving Dinner Activities

What you do:
Ask children to list the food items their family eats for Thanksgiving. Write the food items on the board. Give each child a paper plate, a pair of scissors, glue stick, and a Thanksgiving grocery store flyer. (You can pick them up for free at your local grocery store.) Have each child cut out the food items they think they will be eating on Thanksgiving Day and glue them to their plate. Have children count and write the number of the items in the middle of plate.


Squirrels Activities, Games, and Rhymes

What you do:
Squirrels are scampering to gather nuts to store for the winter, and Thanksgiving is just around the corner. This month your kids will go nuts for the squirrel crafts, activities, games, and resources that we've gathered for you.


NEW! Story Twiggles Free Interactive Books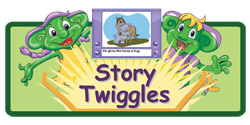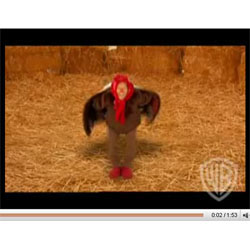 The Turkey In The Straw Song
The Wiggles MP3 Download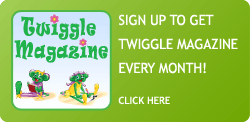 Game

Thankerchief
Arrange children in a circle. Pass around a "thankerchief"
(handkerchief) around as everyone recites the following poem:

Thankerchief, thankerchief, around you go
Where you'll stop, nobody knows.
But when you do, someone must say,
What they are thankful for this day.

When the poem ends, the player holding the "thankerchief" must say aloud one thing for which he or she is thankful. This continues until everyone has had a turn.


KidsSoup Resource Library
NEW This Month:

Family and Emotions
Activities Crafts, and Lessons
Sign up for access to
our entire resource library: