Mother's Day Kids Activities and Crafts
Mother's Day Activities, Gift Ideas, crafts, rhymes, and printables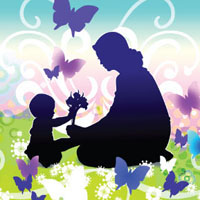 Mother's Day is a day to honor and thank mothers, grandmothers, and just-like-a-mom women in your circle of family and friends for all that they do in raising children. We've gathered a wide array of special ways that children can celebrate Mother's Day with their moms or other special women in their lives, including organizing a tea party for Mother's Day, Mother's Day gift ideas, Mother Day cards, crafts, coloring pages, printables, and activities.
Worksheets/Coloring


Mother's Day Tea Party

Celebrate Mother's Day by having a tea party. Invite family as well as friends who are close to your mom or organize a Mother's Day tea party in your classroom. Cover the table with a festive tablecloth and decorate with flower napkin rings and flower stick in a flower pot (check out KidsSoup Resource Library for directions.) Fill a fancy teapot with tea and serve tea sandwiches (see recipes for simple but delicious sandwiches to make) and cookies.


Crafts



Mother's Day Story Time Literacy Activity

What you do:
The book Five Minute's Peace is a great way to discuss and talk about all the things our mothers do for us.
Book description: One morning Mrs Large, needing some peace and quiet away from her boisterous children, decides to take refuge in the bathroom. She fills herself a foamy bubble-bath and takes in a tray of her favourite breakfast ... but finds her peace is to be very short-lived!
View activities and other ideas to extend this story.


Mother's Day Rhymes and Songs

What you do:
A wide variety of Mother's Day rhymes and songs.
Dear Mother
Dear mother your love is special,
I cannot help but show.
Like flowers in a garden,
Your love makes me grow.


Mother's Day Gift Ideas and Crafts

What you do:
Make a variety of Mother's Day gifts for Mom and Grandma. Nothing will make mothers happier than receiving a gift from her children that they have made with their own hands and given with love.


Mother's Day Menus
What you do:
This Mother's day treat Mom to breakfast in bed or help prepare a Mother's day brunch. For a simply breakfast in bed, serve her muffins, fresh fruit, coffee, and juice on a tray along with flowers and small gifts or make some of the delicious Mother's day recipes like Croissant French Toast with Fresh Strawberry Syrup.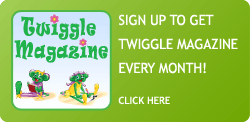 Mother's Day Rhyme:

For My Mother
Here are flowers
For a very special day
Just for you
On Mother's Day
I must have been born
Beneath a lucky star
To have a mother
As nice as you are!




KidsSoup Resource Library
NEW This Month:

NEW! Frog Crafts and Activities
Mother's Day Crafts and Activities
Sign up for access to
our entire resource library: