Mother's Day Activities
Mother's Day Tea Party Ideas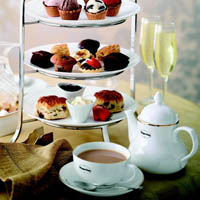 Objectives
Mother's Day is perfect for treating Mom to a special tea party.

Materials
Teapot and teacups
Assortment of teas
Small plates
Tea sandwiches (see recipes below)
Tea cookies
Flowers amd vases for decoration
Mother's Day:
In celebration of mothers—and all the special women in your life—host a tea party in your classroom or in your own backyard.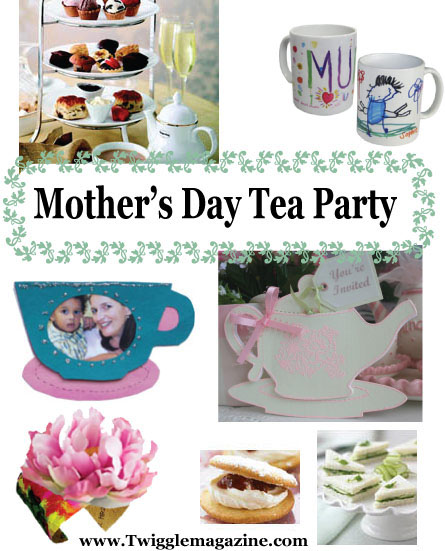 Preparation:
Go to your local thrift store to find some china teacups. (They don't need to match!)
Cover a table with a nice white table cloth. Decorate with silk flowers, faux pearls, and add fresh flowers in a vase.
By simplifying what is served and preparing in advance, you will make the party flow smoothly. Here are some basic beverages and foods ideas for a tea party:
A few assorted teas (black, Earl gray, rosehip, mint and lemon)
For kids: lemonade
Milk, sugar, lemon, and honey (for tea)
Fresh scones
English muffins or biscuits
Double cream
Orange marmalade, lemon curd, butter, and an assortment of delicious jams
Tea sandwiches (small with delicate fillings and the crusts cut off—see recipes below)
Small pastries, tarts or cakes
Mother's Day Tea Party Ideas for a Preschool or School Setting:

Activities and Ideas to Do before the Tea Party:
Mother's Day Tea Party Invitations
FREE A Cup of Tea for Mom and Me Tea Party Invitation printable

Let children decorate the Mother's Day Tea Party Invitation and take them it home to their mothert at least two weeks in advance.
Buy some blank teacups let children paint their own teacups to give to their Moms as a Mother's Day present.
Make teacup picture frames from cardboard. Decorate them with crayons, markers, etc, and use them for Polaroid snapshots of the mother-daughter pairs. Visit KidsSoup.com for Mother's Day teacup pattern and craft description.
Make cute napkin rings by cutting a paper roll into rings and decorate with a large craft foam flower or artificial flower.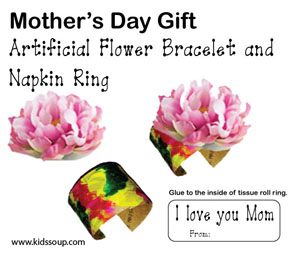 Video tape children before the party. Ask them to tell in the camera why they love their mother and why they think their mother looks beautiful.
Prepare different colored fruit syrups. Puree fresh fruit (red = strawberry, yellow = mango, green = kiwi), some lemon juice, and sugar into a food processer and fill into squirt bottles.
Make a Mother's Day garland. Each child decorates and draws her/his mother picture on a flag. Fold and staple on a ribbon and hang over the tables or on the wall.
Mother's Day Tea Party Ideas:
Let the mom and child "decorate" a slice of angle cake with fruit syrups before eating.
Take a picture of the child with their mother. (Place it inside the teapot picture frame.)
Decorate Sugar Cookies—Roll and cut out sugar cookies and bake according to package directions. Set out bowls of tinted frosting and tubes of colored icing, along with decorative candies, and have moms and children design theirs together.
Play classical music as background music.
Extension:
Read the book Miss Spider's Tea Party
to the children.

Tea Party Recipes and Resources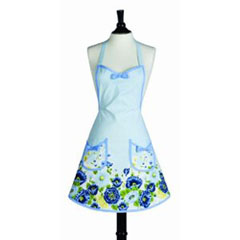 Jessie Steele Bib Audrey Blue Poppy Fields Apron only $29.53

Mother's Day Rhyme:

For My Mother
(Author Unknown)
Here are flowers
For a very special day
Just for you
On Mother's Day
I must have been born
Beneath a lucky star
To have a mother
As nice as you are!




Visit a Lovely Teahouse
Invite Mom (and/or Grandmother) to a special afternoon tea party  and make a reservation at a lovely teahouse.
Tip:  Reservations must be made far in advance, as Mother's Day  is a busy day for tea cafes.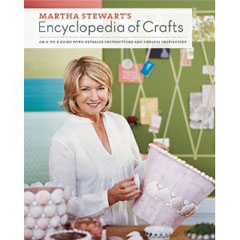 Martha Stewart's Encyclopedia of Crafts: An A-to-Z Guide with Detailed Instructions and Endless Inspiration