Easter and Shapes Kids Activities & Crafts
Easter and Shapes Activities and Craft Ideas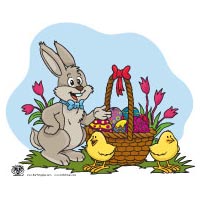 Eggs, bunnies, chicks, and egg hunts are often traditional symbols of Easter. This month you will find fun ideas for Easter crafts and decorations, educational games, and Easter inspired activities to help you celebrate this springtime holiday with your family or the children in your care.
This month we have also created new shapes-related crafts, games, worksheets, and resources to help your child to learn about squares and rectangels, triangles, circles, and other geometric shapes.
View our Easter crafts, activities, and printables available on KidsSoup.com.
Worksheets/Coloring


Games



Healthy Facts and Tips
Did you know that eggs are egg-cellent source of nutrition? Eggs contain the highest quality protein you can buy. They also have thirteen essential vitamins and minerals and contain only about 75 calories and 5 grams of fat. Egg yolks are one of the few foods that naturally contain Vitamin D.
Here's some fun egg trivia:
The month of May is declared "National Egg Month."
Storing eggs in the carton helps keep them fresh.
A mother hen turns over her egg about fifty times per day (so the yolk won't stick to the sides of the shell).


Easter Rabbits Finger Plays and Rhymes

What you do:
Print bunnies pattern on heavy printing paper and have children color them. Cut them out and glue a craft stick to their backs. Hand out the five bunnies to five children and recite rhyme.
Five Little Bunnies Went Out to Play
Hippety hop and hippety hay,
Five little bunnies went out to play.
Hippety hop and hippety hay,
One little bunny hopped away.
Four little bunnies...


Activities: Baby Animals

What you do:
Easter and Spring time is a great time to talk about baby animals and the sounds they make. Celebrate the new life of spring with this new theme on baby animals born on the farm. Engage your children in a series of activities, games, songs, and rhymes centered on baby animal vocabulary: chick, duckling, lamb, bunny, puppy, kitten, foal, calf, piglet, and kid.


Literacy Activity: Mouse Shapes

What you do:
In Mouse Shapes by Jim Arnosky, a little mouse introduces readers to ten two-dimensional shapes. He bends a stick into a circle, oval, rectangle, trapezoid, and so on, showing how each shaped into another. Take a picture walk of Mouse Shapes with children to introduce children to a variety of shapes, encouraging them to describe each new shape.
To help reinforce the shapes presented in the book, draw outlines of the shapes on the sidewalk or playground. Then give children a shape to find and stand on. As children learn the names of different shapes, have him or her jump from one shape to another shape to another shape (good practice in following directions).


Shapes Sally Snake Can Make Felt Story

What you do:
Make a knot to one end of the chenille stem and add two wiggly eyes to make a snake. Hand out a snake to each child. Let children use their snake to make and copy the shapes as you read the Shapes Sally Snake Can Make story.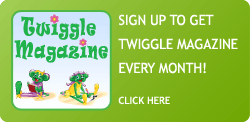 Song:

Animals Sounds
Are You Listening?
(Tune: Frere Jacques)
Are you listening, are you listening
To the cow, to the cow?
Hear the cow calling,
Hear the cow calling.
Moo, moo, moo; moo, moo, moo.

Repeat with other farm animals also like pig, horse, hen, duck.



KidsSoup Resource Library
NEW This Month:
Bugs and Insects Crafts and Activities
Baby Animals Crafts and Activities
Sign up for access to
our entire resource library: