Ready for School Activities
ABC Fun and Letter of the Week Activities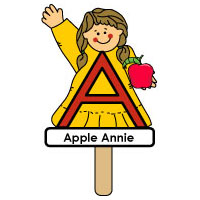 Objectives
Children will be able to identify the letters of the alphabet.
Children will develop fine motor skills.
Materials
Learning the alphabet can be fun and easy for preschoolers! Knowing the names and the sounds of the letters of the alphabet are two of the most powerful predictores of later reading success. There are many ways that you can help your preschooler learn the sounds and names of the letters of the alphabet. Here are some creative ways for your children to get familiar with the alphabet using all five senses.
Letters of Their Name
Children love to learn the letters of their name. Start by just saying aloud the letters of their name. Let children write their name with magnetic letters. Say: "P-E-T-E-R spells Peter, Peter is your name."
Let children trace their name.

ABC Tactile Fun
Let your child practice the ABCs the fun and messy way with pudding, yogurt, cool whip, shaving cream, sand, rice, and other fun materials. Have your child use his or her hands to finger paint to make letters, shapes, and numbers. Your child can lick his or her hands, get messy, and have fun all at the same time!
Chalk and Sandpaper Letters
Place sandpaper letter under a piece of printing paper and let children make letter rubbings.

Letter Craft: Cut sandpaper into desired letters and pour water into a bowl. Have children dip colored chalk into water and then draw designs on the sandpaper letter. Encourage them to use several different colors. Let letters dry.
Where Has Our Letter Gone?
(Tune: Where, Oh, Where Has My Little Dog Gone?)

Where, oh, where has our letter "A" gone?
Oh, where, oh, where can it be?
It is on a card that we had all along
Won't you find it and show it to me?

Hide different letters around the room. Have child find that letter.
Letter Stamping
Let children stamp out letters or copy words using rubber stamp alphabet letters.
ABC Treasure Hunt
Cut large letters from tagboard. One letter at a time, have a treasure hunt with your child to find small objects to glue to each letter. For example, your child could glue dried split peas to the letter P, beads to the letter B, seeds to the letter S, feathers to the letter F, etc.
Musical ABCs
Hang five bells from a hanger. Write each letter of the alphabet on a separate index card. Attach a letter to each bell with a length of yarn. Ask a child to ring the bell with the letter A. Children get to enjoy the sound of the bell as well as learning to recognize the letter. You can also ask children to ring the bell with the letter A two times (or more), thus learning number concepts also.
ABC Baggie Book
Staple thirteen plastic baggies together at the bottom of the baggies. Put a strip of masking tape or colored tape over the staples to form the spine of the book. Cut pieces of tagboard or construction paper to fit inside each baggie. Write a letter on the front and back of each piece of tagboard or construction paper. Let your child cut out pictures from magazines and catalogs for each letter. Have him or her glue the pictures to the tagboard with the appropriate letter. Insert the completed collages into the baggies to make an ABC booklet.
Variation: Provide your child with an inexpensive photo album in which to put the magazine or catalog cutouts.
Uppercase and Lowercase Letter Matching Games
You can find many letter matching game in our KidsSoup Resource Library with an alphabet chart for reference.
ABC Magnetic Letters
Let your child use magnetic letters to "write" on a cookie sheet. Help him or her to write his or her name and write or copy simple words, such as ant, bed, cat, dog, egg, fan, gas, hat, ice, jar, kiss, log, man, net, one, pan, rat, sip, top, up, vet, wag, x-ray, yam, zoo.
Literacy
Read: Chicka-Chicka-Boom-Boom
Letter of the Week Activities:
Gross Motor Skills
Use blue painter's tape to make a large letter of the week on the floor. Let children walk or drive match box cars on the letter.
Fine Motor Skills
Pour salt or sand in a shallow baking dish. Have your child use his or her finger to practice writing the letter in the salt or sand.
Use play dough and shape it into the letter or use breadstick dough and let children form the dough, bake it, and then eat it!

Letter in the Air
Hold your child's hand and help him or her write the letter in the air. After your child has practiced, encourage him or her to write the letter on his or her own.
Literacy
Take a trip to the library and borrow books that relate to the letter.
View more ideas for each letter of the alphabet.

Additional Letter of the Week Ideas
NEW Free!



ABC Song and Rhyme

Building Writing Muscles
When kids are very young, their hand muscles are just beginning to develop the strength and coordination required for writing neatly. Children who have difficulty writing often choose not to write because it;s too tiresome. Help your child build muscle control with these fun, simple fine motor activities.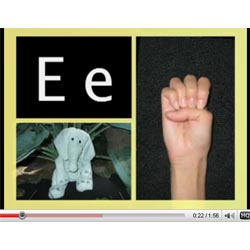 ASL Alphabet/ABC Song Youtube Video
Who Has the Letter?
(Tune: Here We Go 'Round the Mulberry Bush)
Have children sit in a circle. Scatter large cut outs of letters in the middle of the circle. Have a child march around as the other children sing the following song:
Marching around the alphabet,
The alphabet, the alphabet,
Marching around the alphabet,
Stop! Pick up a letter.

Who has the letter A?
The letter A, the letter A?
Who has the letter A?
(Child's first and last name)!

(Repeat with remaining letters and other children.)
NEW! Story Twiggles Free Interactive Books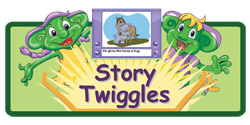 Letter Puzzle
Have your child write each letter of the alphabet on an index card. Next, have him or her cut each index card into two or three pieces. Place two or three of the puzzles on the table and mix them up. Then, challenge your child to put the alphabet puzzles back together again.