Back to School Craft
cute Pencil toppers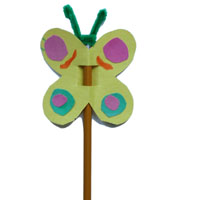 Objectives
Children will develop fine motor skills and nurture their creativity
Materials
Pencils
Craft materials: Craft foam, pom-poms, wiggly eyes, pipe cleaners, felt, paper
Scissors
Glue
Making a pencil topper is a great activity to get children thinking and get them prepared for back to school. The children will be excited to start school with some of these fun pencil buddies to use. Pencils are very cheap and many craft materials are easily found at home. Let your children be creative and come up with their own creation of their pencil buddies. Here are some ideas:
Pencil Topper Creatures:
Provide children with pompoms, pipe cleaners, wiggly eyes, craft paper, small feathers, fur, yarn, etc. and let them create their own pencil topper creatures. Adults can help by using hot glue to attach the pompoms on the creatures.
Butterfly:
Print the butterfly pattern and cut out. Fold craft paper in half and place butterfly pattern on the fold. Trace around the butterfly shape and cut out. Cut two slits as indicated in pattern (see pic1.) Let children decorate their butterfly with craft paper, stickers, glitter, and crayons. Wrap a pipe cleaner around the top of the pencil and form into two antennas (see pic2.) Add glue to keep in place. Slide pencil through the slits of the butterfly.
Ladybug:
Print the ladybug pattern and cut out. Trace on to red craft paper and cut out. Fold in half as indicated on pattern and cut the two slits and wings of the ladybug (see pic3.) Trace and cut the black head piece onto black craft paper and cut out. Glue to the top of the wing piece. Slide pencil through slits (see pic4.)
Extension:
Use pencil toppers for a puppet play.

More Pencil Topper Craft Ideas

Butterfly Pencil
Topper

Pic1

Pic2

Ladybug Pencil
Topper Craft

Pic3

Pic4

Pencil Toppers
Creatures


Movement Activities

Building Writing Muscles
When kids are very young, their hand muscles are just beginning to develop the strength and coordination required for writing neatly. Children who have difficulty writing often choose not to write because it;s too tiresome. Help your child build muscle control with these fun, simple fine motor activities.