Christmas and Cookies Kids Activities
Easy Sugar Cookies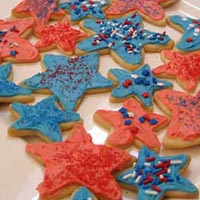 Objectives
Chidren will have fun making a snack.
Materials
Refrigerated sugar cookie dough
Prepared white frosting
Colored sprinkles
Flour
Rolling pin
Cookie cutters
Baking sheet
Plastic knife
Directions:
Roll out dough on floured surface. Cut dough with cookie cutter. Bake cookies according to package directions. Let cookies cool. Spread with frosting and decorate with sprinkles.

Additional Resources
Ten Little Cookies Rhyme
Ten little cookies in the bakery shop
Coated with frosting and sugar on top.
Along came (child's name) with a penny to pay.
He/she bought (number) cookie and ate it right away.
Continue with nine, eight, seven, six, etc.
Science Experiment
tDiscuss with children what they think will happen to a cookie if it's placed in a glass of milk. Place a cookie in the glass of milk and have them record their findings.


Movement Activities

Play a game of "Drop Santa's Hat" with your children, a game similar to "Drop the Hankie." Have children stand in a circle facing each other.