Martin Luther King Activities and Craft
Freedom Bell Craft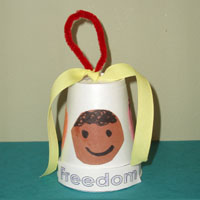 Objectives
Children will develop fine motor skills.
Children will learn about Martin Luther King, Jr.

Materials
Bell

Styrofoam cup

Pipe cleaners

Skin colored craft paper

Aluminum foil

Ribbon

Glue

Scissors

Markers
Introduction:
Show students a bell and ring it. Get reactions from the students about the sound that a bell makes. Then tell students that Martin Luther King, Jr. wanted freedom to ring throughout America.
Directions:
Use a pencil to punch a small hole to the bottom of the cup. Create a pendulum by making a loop with a pipe cleaner (see pic 2). Crumple a piece of aluminum foil around the open ends to make the bell (see pic 3). Wrap another piece of pipe cleaner around the pipe cleaner pendulum between the bell and the loop to make a knot (see pic 4). Insert the loop through the hole at the bottom of the cup. Insert all the way through until the knot. Form the pipe cleaner loop into a handle. Out of different skin colored craft paper cut out circles. Draw facial features and hair on each circle and glue them around the cup. Cut out and trace the word "Freedom" and glue to the cup. Attach a ribbon on the top if desired to finish your freedom bell.
SONG:
Freedom, Freedom, Let it Ring
(Tune: Twinkle, Twinkle Little Star)
(Author Unknown)
Freedom, Freedom, let it ring,
"Let it ring, " said Dr King.
Let us live in harmony,
Peace and love for you and me.
Freedom, freedom, let it ring,
"Let it ring," said Dr King.

View more Martin Luther King Jr. actvities and printables for preschool and kindergarten: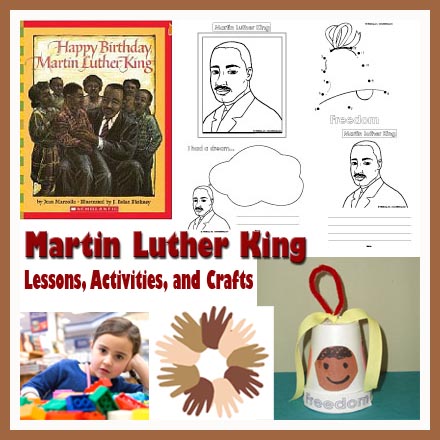 Additional Resources


Movement Activities

In Praise of Martin Luther King
Let us dance and sing,
in praise of Martin Luther King.
A man of peace who stood up tall.
He worked for fairness for us all.
We must be kind to each other
because he said " All men are brothers."
So let us try as we dance and sing
to be like Martin Luther King.