St. Patrick's Day Kids Activities and Crafts
St. Patrick's Day and Leprechaun Activities and Crafts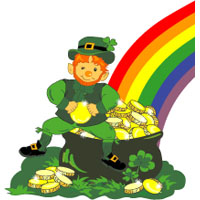 Objectives
Children will learn about the St. Patrick's Day celebration.
Materials
Shamrocks cut outs
Leprechaun poster
Leprechaun coloring page
Directions:
On March 17, everyone likes to feel a little Irish. St. Patrick's Day is a great holiday for kids and adults alike. It is a lot of fun to learn about the history of St. Patrick's Day, to hunt for leprechauns, four-leaf clovers, and that lucky pot 'o gold.
St. Patrick's Day Tradition - There are many traditions and activities that help celebrate the life of St. Patrick, the patron saint of Ireland, the emerald island. With your children, locate Ireland on a map and research about the history of St. Patrick's Day, the shamrock, the Blarney Stone and where leprechauns come from. St. Patrick's Day is celebrated worldwide with people dancing and singing, watching St. Patrick's Day parades, eating green food, wearing green clothes (and pinching those who aren't wearing green!)
Shamrocks
Clovers Everywhere - Shamrocks are three-leafed clovers, and if you find a four-leafed clover, you are thought to be lucky! Decorate your house for the holiday. Create a centerpiece from pots of shamrocks (clover) that can often be found at this time of year in local supermarkets. Add some gold ribbons and shamrock garlands to the pot to make them even more festive.
For a great art project, cut shamrock shapes from coffee filters and have children add green and yellow colored water to the shamrock.
Craft:
For the St. Patrick's Day parade, make a green shamrock bracelet by cutting a one-inch strip off a paper roll and paint green. Cut four heart shapes out of green craft paper and glue together to make a shamrock.
See picture of shamrock bracelet craft.
Five Green Shamrocks
Place 5 paper shamrocks on the felt board or on the floor.

5 little shamrocks growing outside my door,
(child's name) picked one, and then there were 4.
4 little shamrocks, green as green could be,
(child's name) picked one, and then there were 3.
3 little shamrocks, sitting by my shoe,
(child's name) picked one, and then there were 2.
2 little shamrocks, enjoying the sun,
(child's name) picked one and that left 1.
1 little shamrock for Saint Patrick's Day fun,
(child's name) picked it, and that left none.
(Author unknown)

Green, Green and More Green
Green is the theme of the day! Just about every child knows and loves the book Green Eggs and Ham by Dr. Seuss.
Snacks:
Simply tint some eggs green with a little food coloring and serve for breakfast. Read the story to your child as they eat their green treat. Prepare a green-themed dinner of pesto pasta and green veggies for dinner and don't forget the green cupcakes for dessert! Green Eggs and Ham Recipe.
For a greeen drink use a drop of green food coloring to make green lemonade for the kids.
Graphing activity: Do you like green eggs and ham? 
Visit KidsSoup.com for more green-eggs-and-ham inspired activities.
Leprechauns:
A leprechaun Visit - Leprechauns are little Irish fairies, and they are thought to be shoemakers. The Irish say that if a leprechaun is caught by a human, he will reveal where he hides his pot of gold. The night before St. Patrick's Day, do some harmless pranks and mess up the family-room after your children are in bed. Think of as many silly things as you can that your children will notice in the morning. Leave little gold coins or gold nuggets (beans sprayed golden) lying around. Hide a scroll (letter from the leprechaun – find print version at KidsSoup.com) for your children to find. Read the letter together and tell your children about the mischievous leprechauns and their pot of gold. Together write a letter to the leprechaun asking him about his life and to please clean up next time he plays in your house. Discuss how you could catch a leprechaun and make a leprechaun trap together. If you are lucky enough to capture a Leprechaun don't take your eyes of the Leprechaun for even a second or he will disappear. Happy leprechaun hunting....
Leprechaun Song
(Tune: I'm a Little Teapot)
I'm a little leprechaun
quick as can be.
I hid my gold
under a tree.
If you see a rainbow
you may find
where I left
my gold behind!
(Author unknown)
St. Patrick's Day Rainbow Mobile Craft
With a bit of the luck of the Irish, St. Patrick's Day celebrations can be fun and entertaining for adults and kids, and you might just create new traditions for your family.

St. Patrick's Day and Leprechaun printables:


Movement Activities

I'm a Little Leprechaun


I'm a little leprechaun
all dressed in green,
The tiniest man
That you have ever seen.
If you ever catch me, so it's told,
I'll give you my pot of gold.
(Author unknown)


I'm a Little Shamrock
(Tune of I'm a Little Teapot )
I'm a little shamrock, (Show a fist)
See my leaves. (Open up fist and show four fingers)
Count my petals, (Count fingers)
If you please.
If you give me water and lots of sun, (Pretend to give water.)
I'll bring you good luck and lots of fun! (Smile.)
(Author unknown)