Pumpkin and Halloween Kids Activities
What's Inside a Pumpkin?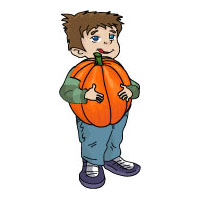 Objectives
Children will learn about the properties of pumpkins.
Materials
Large pumpkin
Large mixing bowl
Small mixing bowl
Pumpkin cutter
Directions

What's Inside a Pumpkin?
Place a pumpkin on a table. Encourage children to try to lift the pumpkin to see how heavy it is. (Make sure that children keep the pumpkin over the table.) Let children touch and feel the pumpkin. Ask children to describe the pumpkin. Does it feel cool or warm? Smooth or bumpy? Cut a large circle around the stem and remove the stem. Have children examine the cap closely. Let the, touch the rough end of the stem and the fleshy side of the inside of the pumpkin. Scoop out the seeds and pulp and place in the large mixing bowl. Let children touch the seeds and then separate them from the pulp. Place the seeds in smaller mixing bowl. Either carve the pumpkin into a Jack-o-lantern or cut large wedges from the pumpkin for children to examine more closely. Cut small slivers of pumpkin for children to sample.

Pumpkin Fun Facts
A pumpkin is a vegetable related to the squash family.
Pumpkins can weigh up to over 200 pounds.
Most pumpkins are orange, but some are white, yellow, and other colors.
Pumpkins grow on vines and bushes.
It takes about 4 months for a pumpkin to reach maturity.
Pumpkins are made of a hard, outer shell and stringy pulp.

Five Little Pumpkins
Author Unknown
Five little pumpkins sitting on a gate.
The first one said, "Oh, my, it's getting late."
The second one said, "Look, there are witches in the air."
The third one said, "Well, I really don't care!"
The fourth one said, "I think we'd better run, run, run."
The fifth one said, "I'm ready to have some fun."
Whoo-ooo! went the wind,
And out went the light.
And the five little pumpkins rolled out of sight.


Pumpkin Patch Artwork
Let children dip carrot rounds into orange paint and make "pumpkin" prints on a sheet of construction paper. After the paint has dried, have children use a green crayon or marker to add stems. If desired, children can connect the pumpkins with the green crayon to create leafy vines.

Pumpkin Candy Counting
Cut out two large pumpkin leaves out gree craft paper and glue onto a large sheet of white construction paper. Laminate for extra strength. Let children use pumpkin candies to create addition and subtraction on the math mats. For example, have them place 2 candies on one leaf and 3 candies on another leaf and then count them all to find the answer to the addition problem 2 + 2 = ?
Paper Bag Pumpkin Craft
Stuff a small paper lunch bad with shredded paper and twist and tie off the top with a green pipe cleaner. Paint the top green and the bottom orange. Cut large leaves from green construction paper and thread onto pipe cleaner.

SNACKS

No-Bake Pumpkin Pie Snack
Put a vanilla wafer in the bottom of a foil cup cake liner. Mix together 1/4 cup prepared vanilla pudding, 1/4 teaspoon pumpkin pie spice, and 1 tablespoon canned pumpkin. Spoon mixture onto "crust," add a dollop of whipping cream, and a candy pumpkin.

Movement Activities

Pumpkins
Author Unknown
Pumpkin large
Pumpkin small
Pumpkin short
Pumpkin tall
Pumpkin yellow
Pumpkin green
All are ready for Halloween!
Use this poem to introduce the concepts of large/small, short/tall, and yellow/green. Create a sentence strip for each line of the poem with an accompanying picture. Make a second set of sentence strips, laminate for extra strength, and cut out words. Let children match the cut-out words to the words in the first set of sentence strips.



Letter P and Short U
Provide each child with an orange-construction-paper outline and have them cut it out. Have them cut out pictures whose names begin with the sound of "p" or have the short "u" sound from magazines and glue them to the pumpkin.