Christmas and Cookies Kids Cooking Activities
Ice Cream Cone Tree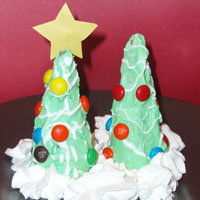 Objectives
Children will have fun creating a Christmas treat.
Materials
Pointed ice cream cones
Ice cream
Whipped vanilla frosting
Green food coloring
Sprinkles
M&M candies
White frosting
Whipped cream
Bowl
Soup plate
Directions:
Mix the vanilla frosting with the green food coloring. Fill into a soup plate. Press a small hole in the pointy part of the cone. Fill the cone with vanilla ice cream. Roll the ice cream cone length wise in the green frosting until its completely covered. Encourage children not to worry about smoothing it out—trees are supposed to be bumpy. Stand the tree on a plate and decorate by dripping down some white frosting, and pressing candies and sprinkles onto it. Place in freezer until ready to be served. Let it warm up if it was in the freezer more than 1/2 hour. To decorate add a craft paper start to a tooth pick and stick through the hole on top to create a topper for your tree.

Additional Resources
A Christmas Tree
One little star on the top of the tree,
Two little presents underneath for me,
Three silver ropes twisted around the tree,
Four colored lights shining prettily,
Five shining balls flowing silvery.
Oh, what a sight for use to see!

Little Pine Tree
In summertime my branches were a place for birds to nest,
In autumn my branches were their place for food and rest,
And now that wintertime is here, I hope to be all glistening
bright with snowflakes...
The little birds' Christmas tree!
Christmas Tree Story
Deep down in the forest when trees grew so tall,
Stood one little fellow, the smallest of all.
The trees waved their branches and rustled their leaves,
But the smallest of all just stood stiff in the breeze.
When Winter winds howled, The trees were afraid,
And dropped their leaves, Till there was no more shade.
The smallest of all just stood brave and tall,
And kept his green coat when snow started to fall.
One day laughing children came pulling a sleigh,
They cut on him gently and pulled him away.
They dressed him in tinsel and bright shiny balls,
In peppermint canes, tiny angels, and dolls.
And on Christmas morning 'twas easy to see---
The smallest of all was the loveliest tree!


Movement Activities

Christmas Game
Play a game of "Drop Santa's Hat" with your children, a game similar to "Drop the Hankie." Have children stand in a circle facing each other.