Pets and Dog Crafts
Dog Craft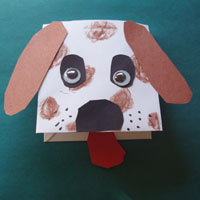 Objectives
Children will use and develop fine motor skills.
Materials
Dog printouts
White business envelope
Brown craft paper
Black craft paper
Red craft paper
Crayons or colored pencils
Large wiggly eyes
Tape
Scissors
Black marker
Glue
Directions:
Print dog patterns on heavy printing paper, laminate for extra strength if desired, and cut out. Trace onto craft paper and cut out. Fold envelope and cut in half (see picture 1). Place pieces together and tape one side together, using two pieces of tape (see picture 2). Fold and color the top piece of the envelope with crayons and decorate with ears, eyes, and nose. With a black marker, draw some dots beside the nose. To make the puppet talk, place four fingers in the top part of the envelope and the thumb in the bottom part.
Note: For younger children, have them place the entire hand in the top part of the envelope only.
See more dog and pets crafts

Additional Crafts and Activities