Polar Bear Kids Activities and Snack
Polar Bear Snack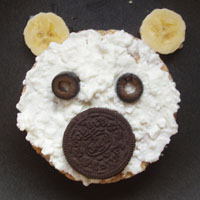 Objectives
Children will have fun making a healthy polar bear snack.
Materials
Rice cake (cinnamon & sugar or plain)
Cottage cheese
Black olives or raisins
Oreo cookie
Banana
Plastic knife
Directions:
This is a simple, healthy, and delicious snack children will enjoy to make and eat.
Slice banana and place black olives in a small bowl. Let children spread cottage cheese on a rice cake. Use oreo cookie for the polar bear's nose and, the black olives or raisins for the eyes. Finish the polar bear snack with two banana slices for the ears. Enjoy!

Additional polar bear resources and snack ideas
Newsletter
2013

Polar Bear
Puppet Craft
Printables


Movement Activities

Polar Bear, Polar Bear, Turn Around.. Rhyme
With your child, recite this fun rhyme and make the movements together:
Polar bear, polar bear,
Twirl around.
Polar bear, polar bear,
Make no sound.
Polar bear, polar bear,
Dance on your toes.
Polar bear, polar bear,
Touch your nose.