Polar Bear Craft
Polar Bear Puppet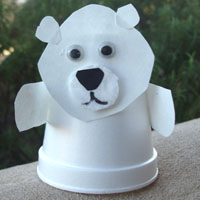 Objectives
Children will develop their fine motor skills to make this easy craft.
Materials
Styrofoam cup

Cotton round

Wiggly eyes

Glue
Black construction or craft paper
White construction or craft paper
Black marker
Scissors

Directions:
This is a simple and cute polar bear puppet craft that even small children can make and have fun playing with.
Cut head and arm shapes out of white craft paper. Cut a small circle out of a cotton round and glue to the head. Cut a black nose out of black construction paper and two small ears out of white construction paper and glue on the cotton round circle. Draw a mouth with a black marker. Add wiggly eyes and glue to the Styrofoam cup as shown in picture. Glue arms to the side of cup.

Additional polar bear resources and crafts
Newsletter 2013

Polar Bear
Puppet Craft
Printables


Polar Bear
Recycled Light Bulb



Movement Activities

Polar Bear, Polar Bear, Turn Around.. Rhyme
With your child, recite this fun rhyme and make the movements together:
Polar bear, polar bear,
Twirl around.
Polar bear, polar bear,
Make no sound.
Polar bear, polar bear,
Dance on your toes.
Polar bear, polar bear,
Touch your nose.