Fall Activities for Kids
Roasted Pumpkin Seeds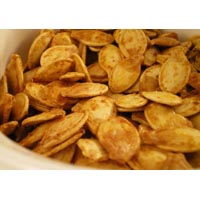 Objectives
Children will have fun creating a healthy snack.
Materials
2–3 c. washed, raw pumpkin seeds

1–2 tbsp. vegetable oil

Salt

Paper towels

Bowl

Baking sheet
Directions:
Dry pumpkin seeds for one day on the paper towels. Mix pumpkin seeds and oil in bowl. Spread seeds evenly on a baking sheet and bake for 45 minutes at 350°. Sprinkle with salt for a healthy snack.
Extension:
Carve a pumpkin and save the seeds to roast.

Additional Resources