Squirrel Craft for Kids
Coffee Grounds Squirrel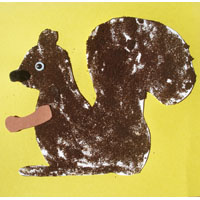 Objectives
Children will:
Use and develop fine motor skills while create an art project.
Materials
Squirrel pattern

Brown craft or construction paper

Small black pompom
Wiggly eye

White glue

Paintbrushes

Coffee grounds
Directions:
Print squirrel pattern, cut out, and trace onto brown craft or construction paper. Cut out. Have children "paint" the squirrel with a mixture of watered down glue. Let children sprinkle their squirrel with coffee grounds (tea leaves work too) while glue is still wet. When children are done, they will have a furry, brown squirrel.

Additional Resources
Newsletter Nov 2008



Squirrel Pattern